It's "parte after parte" in my village at the end of every year, thanks to those who come from the cities for Xmas. They all seems to have money to splurge. Those in the village just assumes that everyone makes it in the big cities. With all these, there is a deeper urge to make it big when you're from such Igbo villages. So Akubata with very little formal education sets out to that expedition of success too. With nothing but a dream of making it big and coming back home to build a big house and then contribute to his home community, he sets out to a big city for fortune. He left the village with the last night bus going to Lagos just after Xmas!
Immediately he got down from the long bus trip, hustle started. By daybreak after sleeping in the park, he walked up to one of the guys hawking Gala in traffic and in about an hour, they seemed to get along well. One of them is Chisom; Aku's new friend. Chisom, was willing to take him to Mr. Hakeem who deals in the wholesale and distribution of table water and soft drinks. Chisom stands as a surety to have Aku's first consignment on credit. That same day, they form a tag team (with Aku selling soft drinks and the friend selling Gala, both complementary products that needs each other from a consumer behaviour's POV). From henceforth, daily Aku was on the busy road of Lagos struggling with other hawkers to sell to the passengers on the bus and individuals in their cars. Luck shone on him from the first day, as he successfully sold 15 packs of table water that day. The struggle continued for over 6 months with Aku scaling up from one product to the other, yet he insisted that he wouldn't go back to his village unless he was successful. The trend continued for about 3 years before Aku met Mr. Ikenna who deals in the sales of electronic appliances. After 2 years of apprenticeship, Aku secured his own little shop at Alaba International Market, same as his boss and he has started off fully. In order to ensure the smooth operations of his business, Aku travelled back to his village after about 4 years of rigorous struggle to scout for young boys who will serve as apprentice to him also. In about a year, he begins to travel to China for international trades with IME developers, cutting off the middlemen. He is now a full importer and merchant. And in about 8 months afterwards, one of his new boys (regarded as "Nwa boy"), Ebuka, had gotten a shop for himself too. And that's how the trends go on and on. But wait, where did all these start from?
In the world of Economics, we have experienced aged-longed economic playbooks which has laid a successful economic model that has been adopted and practised by many companies across the world, while some disruptive companies created their economic playbooks with the likes of Toyota, Amazon, Apple, IBM, Microsoft, Google, Samsung, General Electric etc. Great economist authors have written several playbooks with the likes of Adam Smith (The Wealth of Nation), Eric Ries (The Lean Startup Methodology), Jim Collins (Built to Last and Good to Great), Peter Thiel (Zero to One) and so on. Business Ecosystem has created their playbooks like the Silicon Valley playbook but one intriguing fact is that these playbooks build an economy that is monopolistic in nature. This suits the Western world and the rest of the world, except Africa.
Today we will be looking at a business model practiced by one the Africa nation and culture, which has made Africa successful and has endured age-long philosophy.
The Igbo Apprenticeship Model that is practiced mostly by the Igbo tribe in Southern part of Nigeria has been one of the most successful business models ever to be invented. A business model where the apprentice becomes a competitor to his boss that plays more as a mentor; yet they're both successful. This business model can be divided into three 'Imu ahia' known as learning trade, 'Igba boi' known as apprenticeshipand 'imu oru' known as learning craft. It is an unpaid system business incubation system which allows someone to learn a trade for a period of time (2 to 7 years) depending on the type of trade and apprenticeship agreement. At the end of the service, the apprentice gets cash infusion, guidance and support to kick-start their business from their master. Mostly here the master provides basic amenities like housing, feeding, even health support. Here a successful business man goes back to the village to pick or look for young boys who will work under him on his business while he teaches them how to make wealth.
Let's explore a case study. It's that of a small Igbo town called Nnewi. Nnewi according to the Forbes Magazine has bred more billionaires than any other town in Africa (It's the hometown of Cletus Ibeto of Ibeto Cements, Cosmas Maduka of Coscharis, Chika Okafor of A-Z Petroleum, Ilodibe of Ekene Dili Chukwu Transports, Ifeanyi Ubah of Capital Oil, Innocent Chukwuma of Innoson and hundreds more. But why are they so successful? Is it something about where they are from? Absolutely yes!
It's about their Igbo apprenticeship model, their culture and the ability to support each other to the top. It's something about their thoughts and dispositions that fuel their drive. It's about their associations too. The Igbo apprentice model is built on Grit, Street Smartness, Trust and honesty, Competency, Accountability and Discipline. Here the master assigns an outlet or shop to him to manage out of his master's watch with other apprentice under him. He gives report to his directly. The apprentice in the phase gets to learn skills that will actually propel and drive him in his own business. He is now a master of his own operating an arm of his master's conglomerate.
The apprenticeship system problems are
The system has low age and educational entry barrier and lacks formal training and certifications:
Lack of teaching skills by most masters or 'Ogas' deter pupils from apprentice training completion
Lack of guaranteed access to startup funding after apprentice training completion due to general economic conditions
Lack of written contract to enable legal and regulatory backing by governmentor its agencies.
Innate interests, ability and capability of apprentice are not primary considerations when matching pupils with their masters
General belief that apprenticeship is for persons from poor households and unable to cope with formal education.
The Igbo apprentice model is a subset of the Igbo Ideology of wealth sharing. This is also a part of the larger Ubuntu leadership style and culture in Africa. This Igbo cultural philosophy and ideology is known as 'Umunnannwezuoaku' which in its literal form means community wealth. This philosophy states that the wealth of a man is a wealth for the community. That a man is obliged to teach his brothers the secrets of wealth, in other to create an even and balanced community.
It is also further broken down into 'Akuruno' which is gotten from the Igbo adage 'Aku ruo uno amara onye kparaya' . This translates as " Making wealth get home, so people will know who owns it". This ideology compels a man to take home his wealth back to his family and also his village for the wellbeing of others. This system is designed for a man to take out his family from poverty, then show off his arrival, add value and in that process inspire others too. This model has some core distinction from of other business models, which requires no capital, no equity and a lot of simplicity. It should be thought in our schools.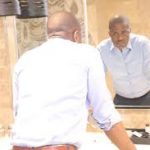 Eizu, ©Hexavia!
Strategy. Business StartUps and Corporate Restructuring Consulting
T: 08035202891
Uwaoma Eizu is the lead strategist at Hexavia! He is a graduate of Mathematics with a PMP®, two MBAs and over a decade of experience working with startups and big businesses. His core is in building startups and in corporate restructuring. He is also a certified member of the Nigerian Institute of Management, Institute of Strategic Management of Nigeria and the Project Management Institute, USA. By the side, he writes weekly for the Business Day newspaper.
Not already a member? Join HBC here.