"On earth, there is no heaven but there are pieces of it."
Those were the words of Jules Renard and it simply depicts the exemplary case of the Love Portion Creative Hub. The Hub, located at 9A Ojo Kadiri Street, Olive Park Estate, Lekki Epe Expressway, Lagos State is an acute combination of creativity and comfort at its peak. The Hub is a serene space where creatives can come in, work and/or collaborate.
During a recent interview on the Hexavian Brand of the week session (a weekly promotion of all Hexavian clients across our channels), the Business Development Manager, Mr. Emmanuel Simeon gave a clear cut insight into the numerous purposes that the creative hub serves. In his words; "The hub is a beautiful place for trainings, film screenings and other creative activities. Therefore, external production teams can also utilize the hub for creation of movies, musical videos and other audio visual contents. It also serves as a primary production hub for the COTSeries Originals." He further explained that the creation of the hub was borne out of the CEO/MD, Mr. Ike Nnaebue's passion for arts and culture. With over a decade of robust experience in the entertainment industry ranging from movie directing to acting, Mr. Ike is very keen on paying attention to details about fun and recreation. Hence, the reason for the amazing aura at the hub for every client.
The Hub has multipurpose facilities to meet with any creative's demands such as a magnificent mansion, lovely garden, swimming pool, sitting room/lounge with a grand piano, VIP bar, executive rooms with Jacuzzi, an office space, kitchen, backyard garden, sculptures and beautiful paintings. Are you considering an amazing space for weekend getaways, team bonding picnics, staycations, photo and video shoots? The Love Portion Creative Hub is your best bet!
As the name depicts, the Love Portion Creative Hub homes a community of civil service workers, private sector employees, media and entertainment crews, political big guns, high net worth individuals, business moguls, entrepreneurial gurus and many more. Despite these diverse collection of personalities, the central theme remains: Love. There is always a portion for every creative at The Love Portion. Irrespective of tribe, gender, race or religious orientation; the Hub harbors a progressive network of individuals from different walks of life.
In his closing remarks, Mr. Emmanuel advised entrepreneurs to always think long term, communicate uniquely and differently, disrupt old business models and proper networking. He also added that entrepreneurs should concentrate more on customer feedbacks, data accessibility, and documentations.
Where are you spending your next vacation? How about a retreat for your employees? The Love Portion Creative Hub will give you an unforgettable experience!
Email: info@cotseries.com
Mobile Number: +2347048097337, +2348060792161
Website: www.theloveportion.com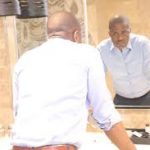 Eizu, ©Hexavia!
Strategy. Business StartUps and Corporate Restructuring Consulting
T: 08035202891
Uwaoma Eizu is the lead strategist at Hexavia! He is a graduate of Mathematics with a PMP®, two MBAs and over a decade of experience working with startups and big businesses. His core is in building startups and in corporate restructuring. He is also a certified member of the Nigerian Institute of Management, Institute of Strategic Management of Nigeria and the Project Management Institute, USA. By the side, he writes weekly for the Business Day newspaper.
Click HERE to Consult with Eizu.