Do not overvalue what you are not and undervalue what you are as well as what you do. We are what we do repeatedly- CHARACTER
Bank PHB had a great brand but a bad character.
They had the best adverts (one day cars will run on water), but the reality was crappy service, bad books and a bad character.
Work on your company inside-out and outside-in, it determines your longevity in business.
Trust is everything. Personally, I look out for three things in a person: Intelligence, Energy and Integrity. If they don't have the third one, then I don't bother looking for the other two.
How to Build Character?
✔Keep your promise.
✔Take risks.
✔Put yourself out there.
✔Don't come up with reasons to not do things, look for reasons to act.
✔Don't invent excuses, invent reasons.
✔Surround yourself with people of high character.
✔Hang out with people who are older than you.
✔Hang out with people very different than you.
✔Hang out with people you admire.
✔Get out of your comfort zone.
✔Commit to self-improvement.
✔Be a good winner, too.
✔Challenge yourself with difficult goals.
✔Use setbacks as fuel.
✔Stop looking to others for approval.
✔Think big.
✔Find a ladder and start climbing it.
✔Learn to recognize and embrace your defining moments.
✔Try to imagine all the possible outcomes of a given situation.
✔Stay busy and avoid idleness.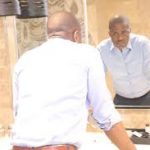 Eizu, ©Hexavia!
Strategy. Business StartUps and Corporate Restructuring Consulting
T: 08035202891
Uwaoma Eizu is the lead strategist at Hexavia! He is a graduate of Mathematics with two MBAs and over a decade of experience working with startups and big businesses. His core is in building startups and in corporate restructuring. He is also a certified member of the Nigerian Institute of Management, Institute of Strategic Management of Nigeria and the Project Management Institute, USA. By the side, he writes weekly for the Business Day newspaper.
Listen to the podcast by clicking on the link below:
https://anchor.fm/lawsofbusiness/episodes/LAW-OF-CHARACTER-ehcq46
To get the complete Hexavian Laws of Business, click on the link below:
Not already a member? Join HBC here.