The world is gradually transforming from the bricks and mortal mode of education to a more digitalized system. Children are no longer taught how to use computers; they are literally born into computers! The use of digital tools and techniques has drastically skyrocketed over the years, hence the increasing need for knowledge acquisition in that sector. From various computers to mobile phones to even children's toys, computerization is pervasive.
Coding is the language of computers. Kids don't just want to learn about computers, they want to know what's behind the screen of the computers. Afro Coding School is the best choice for your children/wards when it comes to Coding skills. With a comprehensive syllabus, flexible class schedule and completely detailed sessions, your child is just a step away from becoming a coding guru! Asides from knowledge acquisition about coding, our educational environment facilitates critical and logical thinking that will help your children to stand out globally.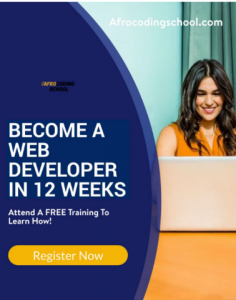 You don't want your child to miss out on this amazing opportunity, do you?
Kindly click the link below to register for the Free Training Session on Friday by 5PM (West African Time):
https://hexavia.krtra.com/t/wEyRBqxCXWZa
To register for the paid classes (Advanced Coding Sessions), click the link below:
https://hexavia.krtra.com/t/3JUfTlE0WPYf
Click HERE to pay.