Trust to me is a synonym for consistency. Trust or its opposite is the natural result of tens of tiny actions, words, thoughts and intentions.
People wake up every morning, head straight to work on a public bus without an initial thought on whether the driver can drive. We board airplanes not thinking about who the pilot is and if he can even fly an airplane. We go to the hospital and get drug prescriptions without thinking of whether the doctor even knows what he or she is prescribing. Why do we even trust these people before really knowing them?
While we are all partakers of one of the above with majorly good experiences even though it's a blind trust, generally we are not very good at evaluating the intentions, and truthfulness, of strangers we encounter. In the book, Talking To Strangers by Malcolm Gladwell, he tells stories of many "encounters between strangers" — Neville Chamberlain and Adolph Hitler ( how he initially charmed everyone including Chamberlain, the then UK prime minister, only to eventually lead a world war) ; a police officer, Brian Encinia, and Sandra Bland ( the 2015 checkpoint confrontation in Texas that led to her arrest.Three days after she was found dead in the cell and it was ruled a suicide); many people connected to/interacting with Bernie Madoff; a spy from Cuba hidden in plain sight in the highest of positions in America's intelligence agencies; among many others. The bottom line: we really aren't that good at discerning the "truth" about the people we interact with. So you may have good intentions and value to sell but people won't see it. So let me ask in the context of business, why don't people trust and buy from you enough?
People trust people they assume that other people trust; that's a catch 22 situation right there. People buy from you when they think other people buy from you.
Even with your ads, if you keep losing out on those deals, if no one is ready to buy from you, if you've ever gone to the bank for a loan and have been turned down with your great idea and on the other hand, the bank keeps chasing another person who has other options for funding to give loans to them then you'd realize that "people do not invest in ideas, they invest in people!". This is the same for sales. Before you sell, concentrate on building you; trust, value and character.
To do business in a system, you've got to be acceptable. Social proof is how this is built, people have to be seen buying from you. You don't just have to sell, people have got to be seen buying excitedly. You have to be a "people's person" . But first of all, you have to be of value first. And then precede it with a valuable character to attract the right people (customer, team etc)
People are your greatest assets. Your NETwork determines your NETWORTH. Build your character around people, especially the connectors. Connectors are people who know people. If you're new in a circle and you really don't know the people around, then at least know the connectors, the owners of the platforms and those people believe, trust and like. Strangely, trust is transferable simply by hanging around those that people trust.
Vusi Thembekwayo in his popular podcast VT Podcast series spoke about "The Speed of Trust" He highlighted two key elements of trust- Credibility and Believable.
Credibility: he said, you have to show expertises on the product you're selling. He said that there is no such thing as mastery. Even Phd holders still study and research. Consistency with incremental value is how to remain relevant, else you're obsolete. In business wars there are only two options: either on the dining table or you're the menu; eat or be eaten.
Believable: He said, you have to command authenticity. Remember your customers are your soldiers. You have to show them why they should part with their money for your product and also help you to evangelise your brand.
Business strategist David Horsager speaks about the bottom-line impact of trust. He has developed a system which he called the Eight Pillars of Trust they are:
Clarity – People trust the clear and mistrust the ambiguous

Compassion – People put faith in those who care beyond themselves

Character – People notice those who do what is right over what is easy

Competency – People have confidence in those who stay fresh, relevant, and capable

Commitment – People believe in those who stand through adversity

Connection – People want to follow, buy from, and be around friends

Contribution – People immediately respond to results

Consistency – People love to see the little things done consistently
In the journey of building trust remember that trust does not happen all at once; gaining trust takes work. It might take years of grinding and sacrifice. Trust, people and relationships, much more than money, are the currency of business.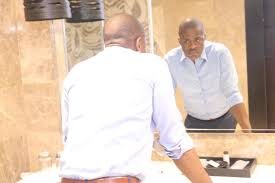 Eizu, ©Hexavia!
Strategy. Business StartUps and Corporate Restructuring Consulting
T: 08035202891
Uwaoma Eizu is the lead strategist at Hexavia! He is a graduate of Mathematics with two MBAs and over a decade of experience working with startups and big businesses. His core is in building startups and in corporate restructuring. He is also a certified member of the Nigerian Institute of Management, Institute of Strategic Management of Nigeria and the Project Management Institute, USA. By the side, he writes weekly for the BusinessDay newspaper.
Click HERE to pay.