Do you want to create a business that runs itself? Sometimes, do you feel like your business is an adult daycare facility? Are you always making the same mistake? Repeating yourself and holding everything together? It is possible to create a business that does not constantly need your supervision.
You want it – now let's make it happen!
Time management has become a difficulty facing our generation. We are busier than ever; in fact, "being busy" has become a hallmark of modern prestige. Being busy has become a badge of pride in the corporate world, frequently linked to productivity and professional success.
But are we preoccupied with doing things right or doing the right thing? Has "staying busy" taken precedence over making time for ourselves?
On certain days despite feeling busy, you might not get anything done. Most of your time on these unproductive days is spent dealing with urgent issues: responding to emails, delegating work, identifying system and user failures, and attending meetings with unclear consequences. Many of these tasks don't accomplish much to advance a business. You probably return to your old routine the next day despite your desire to concentrate on what matters and make more time for yourself.
Many people spend their days working IN their business rather than ON their business. They believe it will fail if they aren't there to oversee every aspect of their company. To a certain extent, this unease is reasonable since, at the startup stage, the owner IS the business; her enthusiasm, skill, and commitment foster its expansion. Additionally, it might be challenging to detach from your business once you've become your business.
This review focuses on a book written for company owners and managers who devote most of their time to managing an "adult day care facility."
The author of this book is David Jenyns, an Australian businessman, speaker, author, podcast producer, and founder of the SYSTEMology movement. According to his motive, his goal in publishing this book is to "liberate company owners globally from the day-to-day activities of operating their business."
David's own professional experience inspired the SYSTEMology structure. After operating Melbourne SEO & Video, a digital marketing agency, for 17 years, David decided to step away from the company and recruit a CEO to take over. His decision was sparked by a significant event that caused most of us to reevaluate our work-life balance: the birth of his son.
WHO SHOULD READ THIS BOOK?
The implementation of the SYSTEMology framework starts with the evaluation of the existing state of a firm. A firm often falls into four categories: survival, stationary, scalable, and saleable.
Survival Stage: David Jenyns writes, "The company owner is in an unending circle of seeking the job, acquiring the work, and executing the work. This leads to inconsistent performance and lumpy outcomes."
A business owner often solves problems, takes charge, and tries to handle everything themselves, making it unclear to others what they should be doing. There aren't any or few systems in place.
Stationary Stage: According to David Jenys," In the stationary stage, the ups and downs have been mellowed down, and the business is beginning to show a bit more regularity."
While some systems are loosely documented, most systems are made up of a variety of dispersed sticky notes. At this point, workers lack the authority to make decisions independently and still rely on the business owner for direction on what to do and how to accomplish it.
Scalable Stage: David Jenyns explains, "you have demonstrated the effectiveness of your primary business concept. All business departments' system still needs to be extracted and organized, but you're making good progress."
At this level, specific systems are in place, and the business systems' culture has overcome opposition to doing things the "new way."
Yet, there is still work to be done.
Processes and systems need to be optimized, and any missing or "broken" systems meeting requirements must be fixed. The business still has space for development in terms of information and workflow.
Saleable Stage: the pinnacle achievement for a business owner is to build a firm that other people want to acquire, known as being saleable.
At this point, systems are implemented by personnel, who are also engaged in a cycle of ongoing system optimization. Boosting the company's competitive power in the market and, eventually, its value helps the business scale growth.
Even if a business owner believes that selling the company is not their aim, it is a friendly reminder that every owner needs an exit strategy from the firm because there always is one – for a few reasons.
According to David Jenyns, "SYSTEMology is a seven-stage approach intended to find and develop crucial business systems."
The Seven Steps are:
Define
Assign
Extract
Organize
Integrate
Scale
Optimize
Each of the seven steps is explained and supported by real-world case studies and materials to aid implementation. This book offers a simple and effective way to implement the SYSTEMology approach.
SYSTEMology offers a viable solution to business owners enmeshed in the routine tasks of running their company.
Implementing the SYSTEMology paradigm will also benefit managers who spend their entire day putting out fires. I'm sure the book will inspire you enough to make necessary adjustments to your company procedures to offer you some breathing room.
In conclusion, if having more effective business processes might make your company function more smoothly, or if you're ready to get yourself out of the turmoil and daily grind of operating your company and want to be free and at peace. I heartily offer this book five stars and heartily recommend it!
Book Review Written by an Hexavian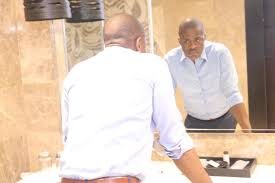 Eizu, ©Hexavia!
Strategy. Business StartUps and Corporate Restructuring Consulting
T: 08035202891
Uwaoma Eizu is the lead strategist at Hexavia! He is a graduate of Mathematics with two MBAs and over a decade of experience working with startups and big businesses. His core is in building startups and in corporate restructuring. He is also a certified member of the Nigerian Institute of Management, Institute of Strategic Management of Nigeria and the Project Management Institute, USA. By the side, he writes weekly for the BusinessDay newspaper.
Click HERE to pay.