Hello there. It's Friday, and I've come to tell you a story that will transform your perspective.
This story revolves around the birth of the iPhone, which Steve Jobs referred to as "one of the dumbed ideas."
Read about how he nearly stopped the Apple iPhone from being created.
A small group of engineers, designers, and marketers approached Jobs in 2004 with the idea of turning their best-selling product, the iPod, into a phone."Why the f@& would we want to do that?" Jobs snapped. "That is the dumbest idea I've ever heard." The crew had noticed that mobile phones were beginning to include music players, but Jobs was concerned that this would eat into Apple's lucrative iPod market. He despised cell phone corporations and refused to build products that were constrained by the restrictions imposed by carriers. He would sometimes tear his phone to bits in fury when his calls failed or the software crashed. He pledged over and over that he would never make a phone call, both in private meetings and on public venues.
Nonetheless, some of Apple's engineers were already working on it. They collaborated to persuade Jobs that he didn't know what he didn't know and that he should question his beliefs. They suggested that it could be possible to create a smartphone that everyone would like using—and to persuade carriers to follow Apple's lead.
When people are hesitant to change, research shows that it helps to highlight what will remain the same. When dreams of change are combined with visions of continuity, they become more compelling. Our strategy may change, but our identity will remain the same.
The engineers who worked with Jobs knew that this was one of the most effective ways to persuade him. They assured him that they had no intention of turning Apple into a phone firm. It would continue to be a computer company; they were only adding a phone to their existing products.
Why wouldn't Apple put everything else in your pocket, too, if they already put 20,000 music in your pocket? They would have to rethink their technology, but their DNA would be preserved. After six months of deliberation, Jobs grew interested enough to give the project his okay, and two separate teams were off to the races to see whether they should add calling capabilities to the iPod or make the Mac into a small tablet that could also function as a phone. The iPhone accounted for half of Apple's revenue just four years after its launch.
The iPhone was a watershed moment in the evolution of the smartphone. Smartphone innovation has been far more incremental since its creation, with various sizes and forms, improved cameras, and longer battery life, but few significant changes to the purpose or user experience.
The Story's Moral
Knowledge has the unfortunate side effect of closing our brains to what we don't know. Having the ability—and the desire—to broaden our thoughts is essential for good judgment. Before making a decision or passing something on, think about it carefully and from a different perspective. Perhaps this is the most difficult period of our lives.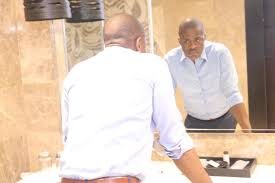 Eizu, ©Hexavia!
Strategy. Business StartUps and Corporate Restructuring Consulting
T: 08035202891
Uwaoma Eizu is the lead strategist at Hexavia! He is a graduate of Mathematics with two MBAs and over a decade of experience working with startups and big businesses. His core is in building startups and in corporate restructuring. He is also a certified member of the Nigerian Institute of Management, Institute of Strategic Management of Nigeria and the Project Management Institute, USA. By the side, he writes weekly for the BusinessDay newspaper.
Click HERE to pay.