Rated 18+: Provocative Metaphors of Great Brands.
He bought a condom. He was 16 and naïve at that time. And the beautiful female pharmacist knew he was new at it. So she handed him the package and asked if he knew how to wear one. He honestly answered, 'No!' So she unwrapped the package, took one out and slipped it over her thumb. She cautioned him to make sure it was on tight and secure. He still looked confused. So she looked all around the store to see if it was empty. It was empty. 'Just a minute' she said. She walked to the door, and locked it!
She took off her clothes, and laid them aside. 'Does this excite you?' She asked.
He nodded! She then said it was time to learn to slip the condom on. 'Well, come on', she said, 'We don't have much time.' So he climbed on her. And within a few seconds of his ecstasy and clumsiness, she said, 'Did you put that condom on?' He said, 'I sure did,' and held up his thumb to show her. She almost fainted!
So from that funny story you read through, I have two cases to make.
Stories and controversy is always an engaging way to sell. I had your attention, so sex (and other types of controversy) and story sells in advertising. That's why automobile firms during ads have more pretty women in them than the car itself. The lesson is to have an engagingly controversial "elevator pitch". Anything can generate interest, it all depends on the story. Most times, for when the customer says he is not interested, it means that you are not interesting. Spice it up. The truth is that marketing is an art, and it can be mastered!
Ask for directions. Don't run your business like the guy who doesn't know where and how to wear his condom. We all need to get professional help, else we assume wrongly.
At any point you are not selling, chances are that you are being sold to. Thing called life and business is like a peaceful war, the enemy is the competitor and the battlefield is the market. We are all soldiers. Be a general, of your life that is. And the easiest way to do this is to seek attention by being compelling and spicy. Spice things up. Tell compelling and controversial stories; be controversial in attitude too,
Port Harcourt is a city known for oil workers; lose funds and a lot enjoyment. And if a lady says she's a Port Harcourt girl, well. So, I remember a billboard all over Port Harcourt years ago. It clearly and boldly read. " Who says there are no virgins in Port Harcourt." Oooops! I thought it was vulgar and offensive. But it was a banner by a multinational. It was Richard Branson's company that had that great tag line in billboards around airports when it launched in PH. But the sponsor of that billboard was Virgin Atlantic. They had just launched their airline route in Port Harcourt. So who says there are no virgin (flights) in Port Harcourt. Hilarious!
Also, I once saw on magazine that showed a suggestive pretty lady with a caption, "these sexy ladies like it. They can't get their hands off it". It went ahead to say, "The more you play with it, the harder it gets." Wow. But no, it's not what you think. "The more you play with it, the harder it gets." that was the caption and the slogan for the 90s TV game console, Sega Genesis. It sticks, right? We all know during video games, as you climb up the stages of any game, "The more you play with it, the harder it gets." What a slogan!
Think in metaphors, be open-minded: The mind is like a parachute; it's activated and works best when it is opened with your attitude. You can sell anything, once you can create an engaging brand attitude. All over us are stories of this; from Coca-Cola's products (mere Sugar water) to D'banj (what has he been singing lately?), to Wrigley for making billions from Orbit and PK chewing gums, or Tonto Dikeh and Bobrisky, with a good career from controversy!
Attitude is everything. Take for example; Kanye West is more popular for his arrogant Brand Attitude, Redbull- an energetic brand attitude, Cardi B, a sexy brand attitude, GTbank- a corporate yet creative Brand Attitude – Mercedes- a classy brand Attitude, Lady Gaga- a weird and cult like Brand Attitude. They were all created on purpose. So, what's yours?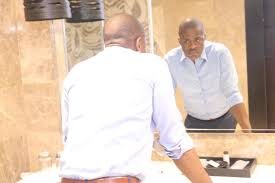 Eizu, ©Hexavia!
Strategy. Business StartUps and Corporate Restructuring Consulting
T: 08035202891
Uwaoma Eizu is the lead strategist at Hexavia! He is a graduate of Mathematics with two MBAs and over a decade of experience working with startups and big businesses. His core is in building startups and in corporate restructuring. He is also a certified member of the Nigerian Institute of Management, Institute of Strategic Management of Nigeria and the Project Management Institute, USA. By the side, he writes weekly for the BusinessDay newspaper.
Click HERE to pay.