A hot slap always followed me whenever I said, "daddy, I don't want to go to church". That routine was constant. And if you didn't go to service on a Sunday, you won't go to school the next day, which is a Monday, (even if you had an exam). My father always had something up his sleeves, same way I always had mine. I couldn't just wait to leave his house. So I wrote JAMB and chose FUTO, a university that was so far away from him and church. Now you understand why I stayed off church for over 5 years once I was free from him.
Years later, I asked him, "and what's the big deal then about going for church service". He said, I know you hate routines, but routines service your character, it reminds you of your beliefs and strengthens your culture. Wait a second, is that why church gatherings are called service?
Holy communions in church service; a supposedly creepy routine to those external to it (where wine is shared as a representation of drinking Christ's blood and bread as a representation of eating his flesh) eaten is what it is, a ritual. It's the same way those in the Amazon Forest cremate and mix the ashes of their loved ones with food. They eat it too with the belief that it helps them rest in peace and within them. It's the same way newly weds in Germany have to watch their loved ones break plates all over only to clean it up as a sense of working together. They believe that it banishes evil spirits. People have beliefs. And routines are rituals in solidarity of that belief. Firms and professionals have something to learn here.
Every motion has a power source. Cars have engines. And for a good engine to keep working optimally it needs servicing, it's a ritual, and a routine you must do. Service. An interesting concept of having a ritual and the compulsory need to service it is illustrated in "The Bonfire Principle". This principle states that to keep the fire burning there has to be a fresh and consistent supply of wood. You have to service that fire.
Just like it is shown in Nollywood movies with Kanayo O Kanayo, once you step foot in an oracle and he gives you success, you have to keep sacrificing for that oracle. So it is in anything else.
To keep that success requires a certain level of predefined routines you have to develop. It's the equivalent of a ritual. For some of us, it's reading, praying, giving, making affirmations, mentoring, meditating on a weekly fast, or just outrightly doing an equivalent of a mental trance, having yoga and exercises or regularly meeting up with mentors. You have to find your own ritual.
There are things you have to do on a regular basis to stay on top of your game, sadly, they should be unending. They should be routines' for routine builds character. For organizations, it builds culture. Every great person has a routine, similar to a ritual. What's yours? And how do you service it?
Life is all about "Servicing and Growing". Steven Covey in his book, introduced a similar concept, he called it the P/PC. I would rather call it the Productivity/Productivity Index, P/PC. It is a formula. It is pretty straight, where P=Production and PC =Production Capacity.
This is better illustrated through the story of the golden goose and the golden egg (an equivalent of the wood and fire concept). The original stories isn't mine but it goes like this:
A struggling farmer finds an egg made of pure gold in the nest of his goose. He thinks it is some kind of joke, then gets it appraised and discovers that the golden egg is for real. The goose lays one of those golden eggs every day, which should be enough for the farmer to live a great life. He indeed becomes rich because of those golden eggs
But even though he is now rich, it is not enough for the farmer. He wants more, and getting that once-a-day egg is not enough. So, convinced that there must be a literal goldmine inside the goose, he kills it and slices it up to get all the golden eggs at once. Only thing is, he finds out that there are no golden eggs inside the goose, and now that he has killed the goose, he will not be getting anymore. So thanks to greed, he killed the thing that made him rich.
The morale of the story is that we all should define a P/PC balance.
Covey uses this tale to illustrate the P/PC effectiveness equation. People think that "the more you produce, the more you do, the more effective you are," Covey writes. But he notes that "true effectiveness" is really due to two things – what is actually produced (the golden eggs), and the thing that produces it (the goose). It is critical to have a P/PC balance. P is for production, and PC is for production capability.
So you can stay up all night, every night, to get your work done. But at a certain point, after you increase production, the production capability – you – will face diminishing returns, as your production capacity fades due to a lack of sleep.
If you have a car, and take care of it with regular maintenance, oil changes, and tire rotation, you are helping the PC – production capability — in order to keep the P – production – going smoothly. If you do not do that, you may save a little money on maintenance in the short-term, but you will lose in the long-term because your car will not run as smoothly, and will break down more frequently.
That is a great metaphor for having a good P/PC balance in whatever you do. There are various ways to keep your personal P/PC balance good – regular exercise, visiting a life /business coach, dieting, relaxation techniques and yes GOING FOR SERVICE (depending on what religion you belong to), could keep you on an even higher productivity level. You have to keep doing them to get the best off them.
—
"….none of us is as smart as all of us.. we can pull this off "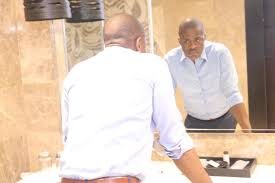 Eizu, ©Hexavia!
Strategy. Business StartUps and Corporate Restructuring Consulting
T: 08035202891
Uwaoma Eizu is the lead strategist at Hexavia! He is a graduate of Mathematics with two MBAs and over a decade of experience working with startups and big businesses. His core is in building startups and in corporate restructuring. He is also a certified member of the Nigerian Institute of Management, Institute of Strategic Management of Nigeria and the Project Management Institute, USA. By the side, he writes weekly for the BusinessDay newspaper.
Click HERE to pay.