On a lighter note, I advise you to borrow money from a pessimist, he never expects it back. For the rest of us optimists, have you ever borrowed money or done a project for a client and your payment is due, then you send a few friendly reminders and nothing happens. Then the next thing, you see that same client living lavishly?
Here are a few questions to ask yourself.
Do you have any legal agreement or clear payment terms for that deal? Did you actually deliver on the job? Does this client feel that he is owing to you or an entire company? It's easier for firms to owe "you" if you present yourself as just alone. One-man businesses usually have this dilemma. Even if you are the CEO, make it feel like your job is on the line. You could say stuff like "my partners are very worried and have summoned me on this matter". Or that "the board held a meeting and I may lose my seat as MD for unrecovered funds. It's even beginning to look suspicious". You can even send someone ( an accountant or someone in your firm posing as that) to get your funds. In management, there is a concept called "The Boss is missing". Give an impression of reporting to a higher person.
Using the phrase "I" instead of "We" during business deals makes the client take you for granted; the same as over familiarity. Let's take this example;
Mr. Abel walks into a client's office that has owed him for some months with the aim of getting the client to pay. When he got there, the client gives him a bottle of spirit and Mr. Abel comfortably sat down and consumed it all. He then cleared his throat and said " Sir, I came to collect my money, I have been expecting as you promised" and then the client responded "ah ah, it's not like I forgot. I have had a series of family issues and have spent a lot of money on that, you know you are my person and we have gone a long way doing businesses together; don't worry I will send the money as soon as I get it". Mr Abel then gets up and leaves. He may never get his full money back.
Do you know why the client acted the way he did? It is because Mr.Abel gave him the impression that he is the sole owner of the business and that he is quite too familiar too. Always make your clients feel you are answerable to people.
Let's explore a few concepts for dealing with owing clients:
Clearly Define Your Payment Terms Upon Sales Closing: You need to include payment terms in your SLA, a strong policy mobilization fee, and when the spread or balance of payment is due. You can even put a clause that allows you to charge interest or extra for late fees. Develop standard "Contract Terms & Conditions" for every contract and get both parties to "sign it" that way it becomes enforceable in law. Send an invoice/bill immediately there is a request for your service, request for part payment before services commences and clearly state when the next one is due.
Be Professional and Assertive: Don't be too casual. First send a polite reminder. If nothing happens, you may need to escalate to a higher source ( maybe the head of the department, the CEO, the board or the industry's regulatory agency). Don't appear like you're asking for a favor when asking for your money. Nigerians do that a lot, especially to higher-level clients. And those clients take advantage of that body language to pay you when they wish. Or did you offer your service to them when you wished?
Send an Official Request; Document your reminder for payment: It's always great to nicely have someone (if you're too close to that person to ask), send an email after an invoice has been sent. And when the subsequent reminder is to be done, on the same mail thread, starting with "as earlier reminded on", the person will get the message. You can even have a corporate email that says "compliance@yourcompany.com". What I have noticed is that even the most disorganized person may not only like but also respect an organized system. Use that system to get your funds.
Have a credit system: from a credit rating sheet to a predefined metrics that qualify a client for postpaid and credit facilities. Know when to cut off pending jobs or even future work with them as a protest.
Make a Subtle Threat if Needed: Sometimes you may need to threaten or even take media and legal actions to get your money. But take this option after a calculated benefit cost analysis. Simply ask yourself what the worst case may be. Something may even be more important than your money; check if that's the case and what it is. Check how important that client is to your business survival should you lose him from being more assertive. I usually ask my client to keep a rule of thumb, never allow any client or even business division to contribute a percentage above 40% to your total revenue. This is because, whomever you give the power to feed you, you have given the power to starve you.
Report to the law or you can even hire the services of a collection agent: there are firms set up to a broker, mediate and even retried loans. You can always find one. But be sure they'd collect a commission. Even the police can do this for you. Also be sure that the Nigerian police may unofficially request for a commission too.
Sunk Costs- know when the game is over: Move on. Have you ever calculated the amount of money you have made over a period of time from that client; maybe you can let this go. Else, get the money and let the client go. Sometimes you win, sometimes you learn. At times where you realize that the money will never be paid and it's been a good ride, count your loss and move on. Spending time on something that is definitely lost isn't worth it. Making trouble or forming a pity party may just be distracting to your growth. Next time, trade with caution, trade with your head and not your heart.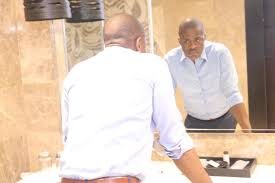 Eizu ©Hexavia!
Uwaoma Eizu is the lead strategist at Hexavia! He is a graduate of Mathematics with a PMP®, two MBAs and over a decade of experience working with startups and big businesses. His core is in building startups and in corporate restructuring. He is also a certified member of the Nigerian Institute of Management, Institute of Strategic Management of Nigeria and the Project Management Institute, USA. By the side, he writes weekly for the Business Day newspaper.
Click HERE to pay.