Have you ever partied, spent lavishly and had a heavy night out you can't remember with the people you can't forget? Cubana describes that feeling. It first started in Abuja. His entertainment brand quickly became prominent by making nightclubs accessible and open without the usual gate fees that were a thing then. It's first lounge was called Ibiza; named after the Spanish Island and summer music festival. Typically it's a fun place with little restrictions. It didn't have the huge "bouncer" presence you'd find in clubs. Cubana still feels the same way.
From a business model canvas perspective, the main Value Proposition is experience. By Distribution Network, Cubana really is real estate that houses alcohol brands, retailers, music, good vibes, similar consumerism driven people trying to impress each other living LaVidaLoca. Characterized by rent free overnight hangouts, seductively overdressed ladies, over priced drinks in an indoor club on one hand. And on the other hand, it retains a traditional outdoor setting for the Igbo Isiewu and Catfish Peppersoup type of ambience.
From the start, Cubana brought in a lot of beautiful experiments you don't find in a sophisticated nightclub back then. They popularized the otinkpu's- what you'd call the hype men. Large building size was also their thing too as they branded loudly and optimized space through a semi-outsourced retail store model. Cubana provided a good alternative for the supposedly not too classy but big spenders who didn't like all that exclusivity clause to enjoy a night out. Accessibility and zero price point in the entry stage was genius plus the "Igbo supporting one another factor" helped bring in patronage by a lot of his kinds.
One of the variables of Postgrad Business School Porter's 5 Forces clearly talks about the barrier to entry. Any brand that clearly brings down the barrier to entry for a customer gets an edge. This can usually be done using price, convenience, or accessibility. What barriers are you bringing down for your customers?
Obi Cubana, a once underdog became a giant by creating economies of scale ( large size bars accessible to all). Let's take a look at these underdogs and how they took out brands:
Google Map: Took out the need for a compass, asking for directions and a need for maps.
Andela: Took out the need for a computer science degree or Aptech, NIIT, or any of those types of formal education and substitutes it with hands-on, ready, and sure employment.
Flutterwave and Paystack took out the huge amount you need (the type that Gtpay and E-Transact strangled themselves with) that they charged to have a payment gateway on your website.
Indomie: took our hours of cooking or even thousands to make the meal.
Wikipedia: they took out Encyclopedias, libraries, and even Encarta.
Apple/Itunes: it took out millions of CDs and Tapes from music.
Netflix: It's taking out television and cable networks
Evernote: is currently taking out jotters and your need to remember anything.
Google: It took out your ignorance and any need for your local library.
Uber: currently taking out cabs in major cities. They made it easy and safe to enter the cars of
strangers.
Youtube: it is taking out TV.
Dropbox, iCloud, and GoogleDrive: Took out the need for an external hard drive.
Instagram: took out photo albums.
Space X: Is helping humans commercially escape out of the earth. In all these examples, what
we see is a lean underdog carrying out a successful coup in the marketplace by creating
accessibility and cheaper alternative to the market.
In any industry, whether it's service, manufacturing, or hospitality, what does it take to make things simple for your customers? The answer is to examine each phase of your customer's journey and strive to eliminate pain points, streamline processes, or provide a value-add that your consumers would appreciate.
Furthermore, making it simple usually means that a tiny investment in small changes will pay off over time in the shape of a smooth client experience. A recent McKinsey customer experience survey of 27,000 US consumers across 44 industries found that companies that focus on providing a superior and low effort experience across their customer journeys – such as customer onboarding, account changes and problem resolution – realized positive business results, including a 10-15 percent increase in revenue growth and a 20 percent increase in customer satisfaction.
What can your company do to make your customers' lives easier?
Try being your own customer first. Use your own product and service so you may learn firsthand how your customers engage with your business and its offerings.
Second, pay attention to your client. Pay heed to the orders that are given. Do you have what the customer is looking for in stock right now? Is it going to be delivered quickly? Is there a simple method to make it easy if you can't fulfil their entire order, such as a guaranteed overnight shipment of the missing item? Third, pay attention to your workers. They deliver the product or service and interact with your consumers on a daily basis, and they know how to make things simple if we just ask. Allow them to make recommendations and run with it.
Throwing the long ball and pleasing your client is still part of the playbook for any business – but making each of those small interactions easy is what will make your business grow, keep your customers coming back, and deter your rivals from plucking off your consumers. Every day, make it simple for yourself and your consumers, and you'll be glad you did.
The less effort it takes for consumers to accomplish their goal when they contact you, the more loyal they become. The reality is all the tools are there for the executive team's use. The customer focused attitude is free. While the integration of your many tools might cost you some investment and time, creating seamless customer service pathways for the customer is absolutely critical. You can't afford to wait another day.
In a Customers Q1 2022 report it was predicted that by 2025, customer experience will overtake price and product as the key brand differentiator. Why not start giving your customers a seamless experience today?
#HexavianCaseStudies #NigerianSMEs #BusinessLessons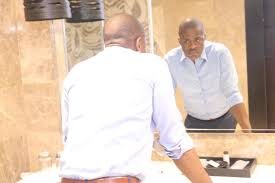 Eizu, ©Hexavia!
Strategy. Business StartUps and Corporate Restructuring Consulting
T: 08035202891
Uwaoma Eizu is the lead strategist at Hexavia! He is a graduate of Mathematics with two MBAs and over a decade of experience working with startups and big businesses. His core is in building startups and in corporate restructuring. He is also a certified member of the Nigerian Institute of Management, Institute of Strategic Management of Nigeria and the Project Management Institute, USA. By the side, he writes weekly for the BusinessDay newspaper.
Click HERE to pay.