Tesla and Apple are arguably two of the most capitalized firms. Imagine when they cross carpets; imagine a Tesla Phone or an Apple Car? Which one will you bet on?
This reimagination is about the Ansoff Matrix. Generally as a company gets better and bigger, to remain relevant it should either create new products or create new markets. But this scenario refers to an uncommon trajectory of diversification.

Apple and Tesla are also amongst the most talked about brands in the last 10years. Apple Inc. and Tesla Inc. have a lot in common, but their products — surprisingly enough — leave a lot to be desired when it comes to how they function together. They both own the number one spot in their market. Design, innovative technology, and a commanding approach to their ecosystems are all hallmarks of both organizations. Instead of physical controls, Tesla's automobiles have a large iPad-like screen, and consumers may use their smartphone as a key. It's also steadily progressing toward self-driving cars. As a result, Tesla has been dubbed "the Apple of Automobiles." Elon Musk even tried to sell Tesla to Apple, and Tesla is frequently referred to as an "iPhone on wheels" by customers.
The biggest barrier to an Apple and Tesla accord is probably Musk himself. In 2015, amid Apple's first attempt to build a car, Musk said that Apple is the graveyard for ex-Tesla staffers. He has lambasted Apple's App Store policies, the Apple News app and slammed the company on a recent earnings call. The two companies may also see each other as future rivals. Apple is building an electric car and plans for it to hit roads later this decade. Musk may not be too pleased that Apple's project is run by his former chief vehicle engineer, Doug Field, along with his former heads of car interiors and exteriors, Autopilot software and drivetrains.
But what if they decide to go deeper into their different speculated pet projects and to cross carpet markets, which would succeed better; a Tesla phone or an Apple car?

If it was a bet, I'd put my money on a Tesla Phone's success rather than an Apple car. This is because, compared to an Apple brand, Tesla is still an underdog which has a track record for grit, disruption, and disruptive innovation. Tesla is still being run by its founder whose vision and tenacity have been responsible for most of its disruptive track record. If Tesla goes into phone manufacturing it will bring to bear its knack for innovation and appetite for risk-taking. Apple on the other hand is a large brand, but they are in their fully mature stage of the product and brand life cycle. It is that success phase where they are less likely to roll the dice or take big risks. Although it's being run by a smart, effective CEO, he lacks the visionary capacity of Steve Jobs. Since Steve Jobs' passing, Apple's capacity for disruptive innovation has experienced diminishing returns.

Furthermore, Apple can't make a mass-market car so it has to enter the luxury car market where you already have key contenders like Rolls Royce, Mercedes, Porsche, etc. But then Apple is a fast learner, especially when you have a lot of funds for research and development. True. Yes, they have the resources for massive R&D but if you are a great tech enthusiast you'd see that what we compare in imagination is actually a real thought in the boardroom of Apple execs. The thing is that Apple, in attempting a shot at the automobile market has had several false starts and poor clarity with regards to whether they should make an electric car or a self-driving car. Both ideas reached a pit stop when the cost of experiments ballooned out of control. So even if they eventually get into car making they will face an uphill battle of getting the luxury car buyers to leave the established brands.
Tesla is among one of the first bluechip companies that started accepting bitcoin as payment for their cars, making them popular with the bitcoin crowd. If they go into phone-making, they can leverage this goodwill to carve a ready niche market for themselves but how many iPhone buyers can afford a luxury Apple car
To put all the conversation in context, understand the Ansoff Matrix The Ansoff Matrx (otherwise called the Product/Market Expansion Grid) is a strategic planning tool that provides a framework to help executives, senior managers, and marketers devise strategies for future growth. The four strategies of the Ansoff Matrix are:
1. Market Penetration: This focuses on increasing sales of existing products to an existing market
2. Product Development: Focuses on introducing new products to an existing market.
3. Market Development: This strategy focuses on entering a new market using existing products.
4. Diversification: Focuses on entering a new market with the introduction of new products. And of the four strategies, market penetration is the least risky, while diversification is the riskiest. But the worst risk is not taking any risky, now that's risky.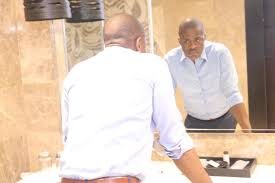 Eizu, ©Hexavia!
Strategy. Business StartUps and Corporate Restructuring Consulting
T: 08035202891
Uwaoma Eizu is the lead strategist at Hexavia! He is a graduate of Mathematics with two MBAs and over a decade of experience working with startups and big businesses. His core is in building startups and in corporate restructuring. He is also a certified member of the Nigerian Institute of Management, Institute of Strategic Management of Nigeria and the Project Management Institute, USA. By the side, he writes weekly for the BusinessDay newspaper.
Click HERE to pay.